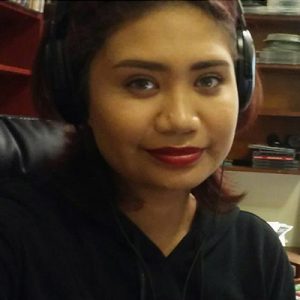 Hi, I'm
Riana Kielly

and I host

Hit Mix Show

Riana is of Kabal Barada & Kukuyalanji descent. She has been at Radio 4US for 6 years now.   Riana originally started out in radio as a volunteer back in 2011 for 3 years hosting a one hour show called 'Hour of Power Show" (pre-recorded) featuring a variety of music from all genres, news, events and interviews.  In 2016 I gained casual employment working as a live announcer/host for the Hit Mix Show, 10am to 1pm, Monday to Friday.

Through the years Riana has trained in Brisbane – Triple A Training gaining Certificates within the industry, hosted various shows, gone on exhibitions and participated in community events live on location.

Today she continues to host a live show, mentoring and supervising other volunteers and school-based trainees about radio, our program and operating equipment.
Hi, I'm
Kyron Armstrong

and I host

The Good Choice & Morning Country Show

Hi! I'm Kyron Armstrong, a Proud Gangulu Decent.

In my life, I've been a Traditional Dancer at Dreamtime Cultural Centre, part of the Djarn Djarn Dancers. Held many jobs, but, I found my calling as a Radio Announcer at my Local Radio Station here at Radio 4US.

I do the Morning Country Show from 6-9am & The Good Choice from 4-6pm Monday through to Friday. I really enjoy it here & see myself staying as long as I can.

Stay Deadly you Mob
Hi, I'm
Letisha Murphy

and I host

Anything & Everything Show with Wildfire

Hey, I'm your Local Radio Announcer Wildfire. I've lived in Rockhampton my whole life and I come from the Mandandanji Tribe Queensland.

I love coming to work everyday & experiencing something new constantly. I have found my Dream Job here within Radio 4US and I hope to stay for many more years to come.

Don't forget to tune in Monday – Friday from 1-3pm with the Anything & Everything Show.

Stay Safe