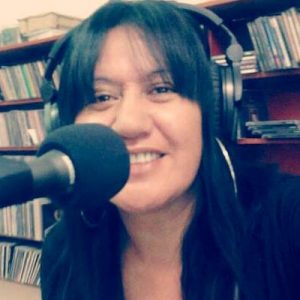 Hi, I'm
Ana Kielly

and I host

Tumeke Music Show

Ana is of Tuhoe & Ngati Kahungungu descent and has been in operations for 11 years now.   Ana originally started out in radio as a volunteer back in 2006 for 1 year, hosting a one hour show called 'Tumeke Music Show' featuring Maori Language, New Zealand Music, news, events and interviews. The following year 2007 she gained casual employment for a couple of months until successfully placing a full time position.

Through the years Ana has done just about everything within the radio industry; trained as a live announcer, hosting various shows, gaining Certificates III & IV in Screen & Media and the usual practice of taking up challenges in new areas of Broadcast Technology and daily transmission.  

Today, Ana is more behind the scenes, upskilling and training staff, students and volunteers that come through. 

"It is a privilege and honor to do what I do" – (Station Coordinator – Ana Kielly)
Hi, I'm
Riana Kielly

and I host

Hit Mix Show

Riana is of Kabal Barada & Kukuyalanji descent. She has been at Radio 4US for 6 years now.   Riana originally started out in radio as a volunteer back in 2011 for 3 years hosting a one hour show called 'Hour of Power Show" (pre-recorded) featuring a variety of music from all genres, news, events and interviews.  In 2016 I gained casual employment working as a live announcer/host for the Hit Mix Show, 10am to 1pm, Monday to Friday.

Through the years Riana has trained in Brisbane – Triple A Training gaining Certificates within the industry, hosted various shows, gone on exhibitions and participated in community events live on location.

Today she continues to host a live show, mentoring and supervising other volunteers and school-based trainees about radio, our program and operating equipment.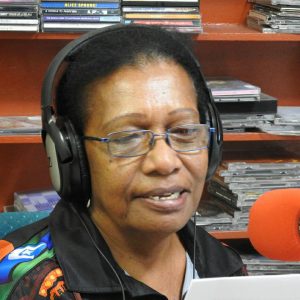 Hi, I'm
Annie Gela

and I host

Yarnin' Up

Some may not know that Aunty Annie is a fluent big thap kriol/yumbla tok language speaker born on Thursday Island.  A Mualgal woman from St Paul Community of Moa Island which is situated in the inner-west Torres Strait group of islands.  She is also a facilitator who conducted the Torres Strait Islander Indigenous Langauge programs for SAIMA TSI Corporation in past years, providing assistance to language speakers in the interpretation of the language dialect words into English.  In 2018 she was successful in gaining work here at 4US as a live radio announcer.  

Aunty Annie G goes to air Monday to Thursday daily from 12pm to 2pm so be sure to listen into all 'yupla kain musik'.  
Hi, I'm
Antonio Mann

and I host

The Game Plan

Looking good and feeling deadly, Antonio came to 4US in 2018 as a school based trainee representing North Rockhampton High School.  Toward the end of the year he completed his online Certificate III in Screen & Media (Triple A Training – BIMA Radio 98.9fm Brisbane) and is the newest staff member for 2019 at the station.  Hailing from both Darumbal (father) and Dauareb (mother) clans. 

Antonio hosts live a 2 hour segment Monday to Friday, the show 'The Game Plan'.  It focuses on Sports in general – locally and nationally.  With such vision and an inspiration to his family and community he is a young role model for those who wish to follow in his footsteps.  Watch this space you mob!